Immersive Career Exploration Tools
Nahamani.org finds great joy in supporting initiatives that uplift and empower area youth to explore their career options. In addition to maintaining Cincinnati Architectural Mentoring Program's website, Nahamani.org is responsible for managing the nonprofit organization's Facebook and Instagram presence. As a result of our team's efforts, the leaders of C.A.M.P. have expanded their mentoring program and exceeded the number of area youth introduced to careers in architecture.
Award-Winning Websites
Nahamani.org is elated to help Uptown Consortium, Inc. enhance the utility of its existing website. Our team is responsible for the development of Uptown's interactive map, which allows visitors to learn about exciting projects happening throughout five uptown neighborhoods in Cincinnati, Ohio. As a result of our hard work and collaborative efforts, UptownCincinnati.com was the recipient of the 2022 dotCOMM Gold Award, an award recognizing the site's creative digital experience.
Community-Driven Applications
Nahamani.org is proud to help Interact For Health with the creation of a virtual hub to support Interact for Health's smoking cessation efforts.  Nahamani.org was responsible for the website development of https://www.quitculture.com, a centralized hub to help Black Cincinnatians quit smoking.  We also created an interactive pledge to help individuals seeking to quit smoking stay committed to the process.
Educational Enrichment Solutions
Nahamani.org is proud to help Advocates for Youth Education create an online presence that allows graduating seniors to apply for their annual scholarship fund. 
Because of the hard work our team has dedicated to this project, local high school seniors can now get the much-needed help to make their dreams of higher education (college, vocational school, and more) a reality!  
Personal Branding for Community Advocates
Nahamani.org is proud to help Kate McCracken create a comprehensive central hub for all things related to the client's personal brand.  As a result the client is able to highlight the most important aspects of their community work and establish their personal brand identity.
LedByKate.com is more than just a professional website, it is a digital footprint owned and operated by the client.
Comprehensive Communications
Nahamani.org is proud to help provide comprehensive communication services to Sickle Cell Alliance Foundation.  Nahamani.org manages the non-profit organization's website http://www.scafcincy.com.  We also manage their social media accounts and help the organization by providing Publicity for their annual fundraising event.  
Website Development
Nahamani.org created a comprehensive website for Longmire Safe Haven Homes' two lines of business. This project consisted of creating a professional website, content development and search engine optimization.
Website Makeover
Nahamani.org helped FinanciallyU, LLC freshen up their website and enhance the end user's experience.  For this project, we took included headshots of the founder, Shauntel Dobbins and added her extensive bio.  We also helped the client streamline the booking process.
Website Development & Consulting
Nahamani.org created a new website for an existing business, Nene's Angel's Veteran's Home, Llc. Nene's website was built to mimic the home-like setting of the client's transitional home.  In addition to creating a professional website for Nene's Angels, LLC, Nahamani.org has also assisted client with strategic planning and branding coaching.  
E-commerce Solutions
Nahamani.org helped Heads Up Trading Co. revamp their website to include a comprehensive E-commerce solution for their fair-trade retailing business.  After completing the E-commerce setup using Shopify's online shopping platform, the customer reported a 100% increase in online sales.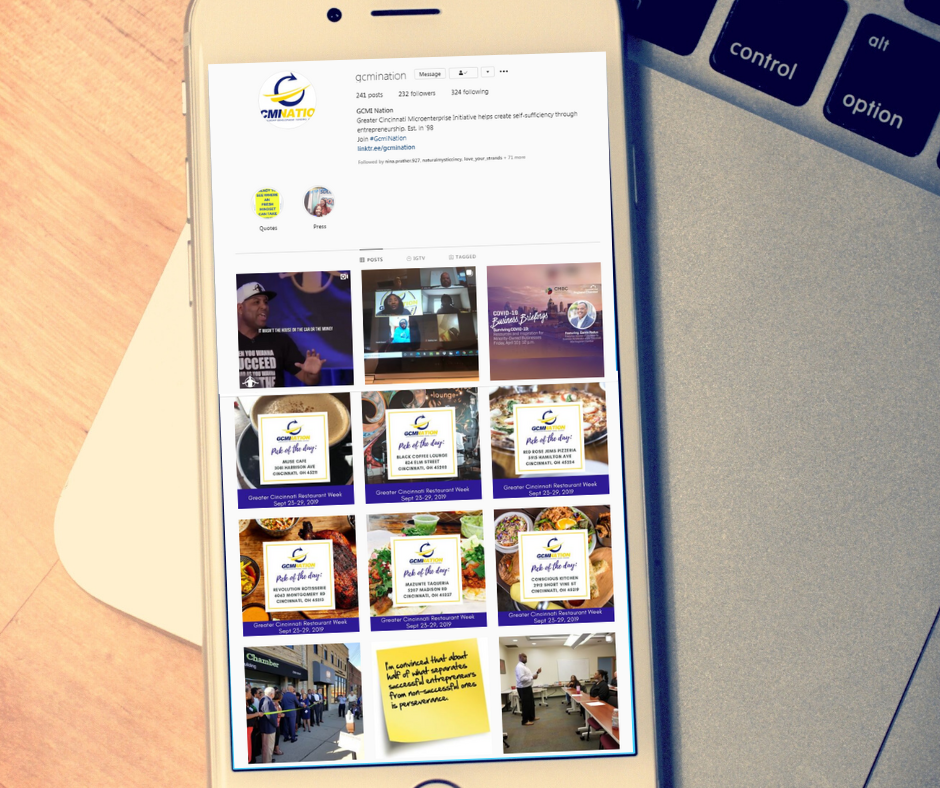 Content Development
Nahamani.org has been managing Greater Cincinnati Microenterprise Initiative's social media profiles since February 2018. We create content for their various social media channels, monitor their inboxes and use these platforms to promote local business clients.
Let's Start Something new

Join the success squad!