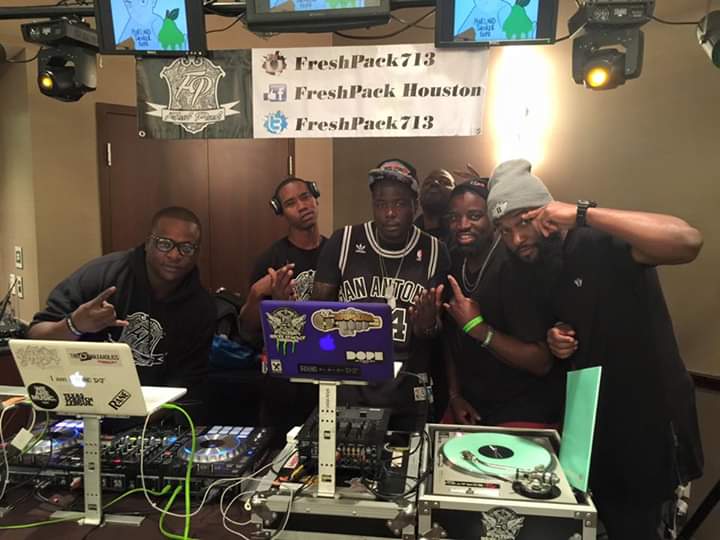 Fresh off of a plane DJ Tae Boogie arrived in Houston, TX ready to conquer the world. He was new to Houston, but he had a love and connection to mixing that was unlike anything he had ever done before. Entering into a new nightlife scene, surrounded by living legends, it was understandable that DJ Tae Boogie began to question himself. Lucky for him, he was not alone….
As new entrants to any market, entrepreneurs often find themselves struggling to break through the existing infrastructure and carve out a niche for themselves. Though it may seem daunting at first, having someone in your corner to help keep you motivated, it is imperative. Whether it be a mentor, a sponsor, or simply a friend. This relationship can manifest in an organically or by intentionally joining forces.  Yes, finding your tribe takes time and effort, but as DJ Tae Boogie soon realized, the benefits are well worth the effort.
We asked DJ Tae Boogie for a few tips on how he pushed the envelope and broke into an existing infrastructure, all while building a long-standing legacy as a Lifestyle DJ.
Here is what he recommended:
Going into a new market you should visit first and get a feel for the environment to make sure it's the right fit for your brand's style. It is important to know the demand in the market that you are trying to take over, this will help you find your lane or niche to avoid entering a market that is oversaturated.
Do your research. Do not just go into a market thinking you are about to take over because there are a million others who have said the same thing.
Build relationships in the new market, that is a must.  You have to find a mentor!
Build a fan base or clientele.
Most importantly, remain humble and move silently so when its time to hit the gas on your plan, nobody can stop you because you are too far ahead for anyone to hate.
Beginning in a new field or attempting to conquer a new market can become discouraging, especially when entering a field that you feel is overrun with people more experienced than yourself. Such was the case for DJ Tae Boogie when he arriving in the Astro City. Fortunately for Tae Boogie he brought his brother with him. His brother had been his right hand throughout their entire lives, especially when Boogie decided to enter into DJing. Tae Boogie's brother would not allow him to entertain the thought of quitting, even for a moment, pushing Boogie forward he began to slowly make a name for himself. The Cincinnati-made DJ started mixing at strip clubs and after-hours spots; really hitting the streets and spreading his name around. DJ Tae Boogie eventually went to work at a prominent radio station in Houston, a victory that he accredits to his brother pushing him. Whether it is a brother, a friend, or a coworker, it is important
to have someone to keep you grounded.
Humble Beginnings
Remaining humble and staying grounded are two of the biggest keys to getting where you want to be in your career. DJ Tae Boogie wasn't always a DJ, there was a time he didn't even know he wanted to DJ. Boogie had been attending college, playing video games professionally, and was working at Arby's when one day on his smoke break his path changed, the path that led him to become DJ Tae Boogie. "I was taking a walk to get my nicotine dose, when I stopped in front of the building where The Wiz Studios were.  The Promotions Director happened to be walking into the building where he would meet Big Greg, DJ Skillz, and Terri Thomas as well as interview for the position with hurricane Dave. The Promotions Director stopped in his tracks and asked me what I was doing and if I was in school."
Boogie was, in fact, in college at the time and asked to interview for what was going to be the first radio street team in the city. Overjoyed, Boogie interviewed for the position later that week but heard nothing for nearly three months. One faithful day the Wiz van pulls into Arby's drive-thru filled with none other than the Cincinnati street team. Once the DJ-to-be discovered who they were he immediately clocked out and walked to the building where he had met Skillz and interviewed for the position all those months prior. Boogie finds out his application had gotten lost in the shuffle, due to the fact that the Head of Promotions had changed roles right around the time Boogie had interviewed.  Once they got it all sorted out, Boogie informed them that he was able to start immediately.
Fast forward to Boogie having been on the street team following all of these city influencers around, he took a liking to DJ Skillz and the other DJs on the Wiz team. Having listened and learned, Boogie decided he wanted to do more than promotion, he decided he wanted to become a DJ. At times finding a mentor can be easy and other times that person can be right in your face and you might not even realize it.  Sometimes you just have to prove yourself.
When Boogie approached DJ Skillz about being mentored in the art of spinning, Skillz had a test for the soon to be DJ. Skillz gave Boogie two records and told him to return when he could seamlessly mix the two records multiple times with an undetectable transition. It took Boogie months to master this technique but once he did there was no turning back from there. He started DJing for the Wiz All-Stars basketball team.  Within a short amount of time he took on his longest club residence at Club Motions.
Boogie Brings Community Back
Today, DJ Tae Boogie is looking to bring back the community vibe that his predecessors had brought to the city of Cincinnati. When he was coming up the DJs on the radio were involved in the Boys & Girls Clubs, they mentored, they held food drives, and gave back to their community. This is what had compelled him to say yes when DJ Maserati reached out to him to let him know that Ohio Media School was looking for an instructor a little over two years ago. He originally joined on teaching drones and podcasting. However, when the school developed the Audio Emphasis Program, Boogie was quick to calls dibs on the program (this being his lane and all). DJ Tae Boogie is currently teaching production, audio engineering, live sound, and DJ-in at Ohio Media School's Cincinnati campus. This gig provides him the opportunity to mentor students and help them with their artist development, DJing, and so much more.
As a brand, it is important to portray and conduct the core principles for which you want your brand to be known. DJ Tae Boogie embodies his music, he using his mixing abilities to create a storyline that is applicable to the situation.  If he is DJing for a wedding the storyline may demonstrate a courtship, love affair and lead up to a lifelong commitment. "Success to me, is to be apart of the movement that changes the way people listen to music and reinstate the community values on which I was brought up." stated DJ Tae Boogie when he was interviewed by Makiah Malan.
Special Thanks to Makiah Malan for your contribution to the Nfluencr Blog.  If you'd like to be a guest contributor, please shoot us a message today to further discuss.